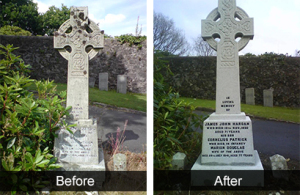 At Whiteside Memorials we offer a complete restoration service from cleaning to fully re-erecting large monuments.
All headstones are erected in accordance to NAMM code of working practice. Our aim when restoring old memorials is to bring them up to 'as new' standard.
Our highly skilled monumental masons can add any type of lettering to your memorial and we take time to ensure we get an accurate match to the old inscription.
Please enter as much information as you can and we will contact you to discuss your requirements.
Please note that we will never share your information